Club Activities
NOTICE
TRAP WILL BE POSPONED UNTIL
FURTHER NOTICE DUE
TO A MECHANICAL
PROBLEM
TRAP SHOOTS WILL CONTINUE EVERY SUNDAY STARTING AT 12 NOON. THE COST IS $3.00 PER ROUND OF 25 BIRDS. THE FIRST SUNDAY OF EACH MONTH WILL BE A 100 BIRD PROGRAM THAT HAS A PAYBACK AND THE COST OF THIS SHOOT WILL BE $18.00. YOU DO NOT HAVE TO SHOOT THE PROGRAM IF YOU DO NOT WANT TO.
SPORTING CLAYS WILL BE EVERY TUESDAY NIGHT STARTING AT 6 P.M. THE COST IS $5.00 PER 25 BIRDS. WE USUALLY SHOOT 100 ROUNDS (TWO 50 BIRD ROUNDS). THIS IS A GOOD WAY TO IMPROVE YOUR SHOOTING SKILLS AND HAVE FUN. THIS IS A VERY INFORMAL SHOOT AND TO MEET NEW MEMBERS. IT IS HIGHLY RECOMENDED THAT MEMBERS SUPPORT THESE FUNCTIONS.
SPECIAL NOTE
SUMMER WILL BE HERE BEFORE LONG AND IT IS TIME TO GET SOME OF YOUR WORK HOURS IN. WE WILL BE HAVING WORK PARTYS ON THE WEEKEND'S TO GET THINGS READY FOR THE SUMMER. THIS MEANS THAT WE NEED TO GET THE GROUNDS CLEANED UP AND READY FOR THE MOWER. YOU DON'T HAVE TO WAIT FOR THE WORK PARTYS, YOU CAN PICK UP TRASH AND LIMBS ANY TIME YOU ARE AT THE CLUB. IT IS EVERY MEMBERS DUTY TO KEEP THE AREA CLEAN.
NEW CARLISLE SPORTSMAN'S CLUB
P.O. Box 103
New Carlisle, OH 45344
SHOW YOUR PATROITISM, FLY THE FLAG!!!!!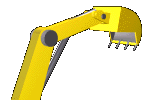 As always, we need people to help cut the grass and do other general grounds work. Remember that being a member of this club means that you agree to help the club. We desperatly need people to help with mowing and other yard work. Please help do your part. The time that you work can be taken off of your next years dues!
NRA memberships are available through the club for the price of $25. You can fill out the membership form at the monthly meeting.